In this article, I am going to present you JustHost Review and all the necessary information. The company has impressively grown into one of the best-recognized web hosts in the industry these days. They truly are generous when I think about the features, which they are offering with their hosting plans. The plans come without any restrictions on storage and bandwidth (data transfer), you can also host unlimited domains on a single account. These all comes in just $6.95 (Prime Plan).
They also offer excellent add-ons like Yahoo and Google marketing credits for your site's advertising needs. Undoubtedly JustHost focuses on the characteristics that count to customers. Their technical support and customer service are meeting the industry average and when it comes to knowledgeable technicians as well as response time.
The extras include Fantastico program for easy installation, and their website builder is exquisite that helps them to stand out in the crowd. I believe that they are good for hosting low traffic sites and you will be satisfied with them
Pros:
Reliability
We rate Just Host's reliability as High and Impressive as Just Host's reliability is very highly rated among hosts, thanks in part to their unique load balancing technology and super fast redundant backbone bandwidth connections.
With load balancer, your site is backed by multiple servers, so that if a server becomes unreachable, your site will remain online; hence they are trying to eliminate loss due to site downtime. They also utilize top quality HP, EMC and Dell servers, which are industry leading in terms of speed and processing abilities. This enables Just Host to boast a 99.9% infrastructure and systems availability and which has enabled them to be known as one of the highest uptime providers.
Also when you add to this the state-of-the-art Cisco PXE, Foundry and Nokia CheckPoint firewalls that they use and the multi-layer clustered security system, this enable them to provide the reliable and secure hosting services that you can ever subscribe to.
Price Value
JustHost offers the plans at reasonable prices which are common in hosting market nowadays by including plenty of features.
It really doesn't matter that you need a hosting for your business site or for a personal Blog. Because they offer various plans that will surely fulfill your requirements.
In return for the monthly rate that they charge, what are you getting as a customer? How do their plans prices compare to the competitors? To give you the idea that how they are offering much more as relative to the other companies. Here look at the short list of what their individual packages include: Free domain name for the life of registration, free setup, unlimited web space and bandwidth, and a free tool for the construction of your site.
Further features include a library which is full of scripts like WordPress, osCommerce and Joomla. Furthermore, they are offering anytime money back guarantee i.e. within 30 days you will get the full refund after if you cancel your order after 30 days they company will issue prorated funds by excluding domain and setup fee.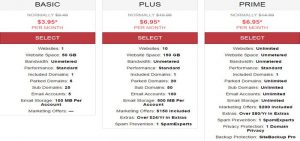 Control Panel
When selecting the hosting service provider, one of the most significant element. Because with the help of control panel you can manage every feature of your site. A user-friendly interface provides the user a seamless experience.
JustHost present the CPanel, which is the most common in the industry. CPanel is much known due to its user-friendly and ease of use interface. Here you can easily manage all features of your hosting account. Some other features are the various site statistics, search engine indexing, script implementation, databases management, emails – including creating and managing all e-mail accounts, and file & domain management.
Site Builder is an easy and fast way to construct a site from the grounds. I did not require any special skills to grip over. It includes the management of site's contents to modifying your pages– this makes a lot easier to manage the site.
Uptime and Speed
JustHost providing a reliable environment in terms of Uptime and speed. They are offering the industry standards Uptime and i.e. 99.9%. Yes, by seeing the statistics I can say that they are striving hard to make it possible to keep your site online throughout the years. But we should keep in mind the possibility of down time after all it's a matter of machines, which cause problems anytime.
Cons:
Weekly Backups:
Yes, they do offer free backups. But a site backup will produce once in a week. While, many companies out there who provide daily backups without any cost.
A daily backup seems much secure to protect the data from any loss as compared to weekly data backup. Because in a  Weekly data backup If something wrong happened then, you could restore your data, which is backed up a week ago. So, the work you have done before the next backup will waste.
In that case, you have to install a plugin, that will do the daily backup of your whole site.
Subscription for 3 years
Think carefully before you got the subscription. You will get the basic hosting account at $3.95 only when you subscribed for at least three years. While if you want to subscribe for one year the price for one year, then the price goes high at 4.95$.
So, if you don't need extra resources and want the subscription for 1 year, then there are many well-reputed companies better than JustHost.
Customer Support
Did you know that customer support is one of the finest ways to judge the reliability of a web hosting provider? This is because every minute counts – especially if you have a website which heavily based on the uptime for sales and information provided to customers. So when your site goes down you may lose your customers.
There's a good chance that those who are not willing to check back on your site every hour will run out of patience and go with the competitor's site. Just Host offers fast enough support services, they are available 24/7 toll-free phone support, Live chat and on emails to help their customers in a matter of minutes. They also maintain a broad range of knowledge base, so that the customers can get the answers to most common questions easily and quickly. Yes, they are providing almost industry average support services and make it possible for the customers to contact them through the regular channels. But in my opinion, they still need some improve their services.
Summary
So what's the final verdict about the above discussion of JustHost Review? By summing up all of the above discussion I want to say that they are the fine hosting provider. They are good enough to give them the try
Next, they are offering many features as compared to the price like you can host unlimited domains, advertising credit. Moreover, they are offering anytime money back guarantee which is really great. The company striving to make sure that customers are satisfied to the fullest. So, in my opinion, it's a very much risk-free hosting company for websites having low traffic or just at the start.