Many times fellow Blogspot users need to search for a new template for their blog. They used to change template 3-5 times in a month. Now the question is: Why? Most of the possible reasons are as follows
Heavy loading: Most of the themes take much time to load.
SEO problem: Templates are not SEO optimized.
Layout Problem: Mostly we can't find in template what we want.
Taking in mind the above reasons, we have collected some cool templates which will surely meet your requirements. These are easy loading and works with almost all browsers.
Everyone blogger wants his/her blog to look professional with easy loading without any technical error. Below listed templates can be a good choice for them. Just give a try to these premium templates. Don't worry these are free templates. I am sure you will fully satisfied with at least one of the following.Apart from these themes, there are many places to buy premium themes for your blogs no matter it is hosted on Blogger or WordPress.
Apart from these themes, there are many places to buy premium themes for your blogs no matter it is hosted on Blogger or WordPress.
In fact, you can discover some cool places to buy premium WordPress themes for your websites hosted on WP platform. For Blogger, you can head over to ThemeForest for great, awesome and stunning looking themes as well.
1. Sensational Blogger Template
A cool template adapted from WordPress. Consist of attractive design with sliders and down scroll menu. Labels at left side can help your visitors to choose their required category. The minimalist design and clean overlook deliver awesome reading experience without any distraction.
The best thing is there is not any over-designed fancy stuff on this theme which helps owner build a neet and clean blog. It supports multiple widgets as well to help you maintain your blog as per your need. However, bloggers can further redesign or customize it for their ease.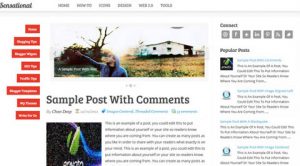 2. Way2Blogging Blogger Template
A pro looking blogger template which is free to download. Just enter your email address in signup box on the download page and get template file in your mail inbox. Unlike many templates, it also supports Adsense advertisement placement feature, which comes handy to place ads on the different place of your blog.
It is specially designed for considering Adsense users in mind to help them insert ads where they want and highly optimized for ad networks to make more money.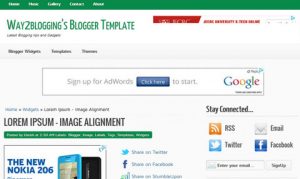 3. CopyBlogger Template
Exclusively made for bloggers who want a copy of this premium Genesis child theme for their Blogspot blog. Easy to configure with inbuilt layout widgets. Great design with a combination of good colors.
It provides almost all the features and design look which CopyBlogger has, and thus quite a great option if want to make your site look professional and beautiful.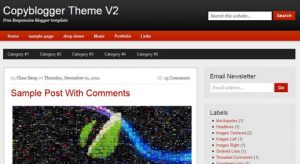 4. Metro Simple Blogger Template
Another pro looking blogger template. Great work by the developer for we blogspot users. Don't forget to give a credit for the work. Particularly build for the users who love to have grid design for their Blogspot blog. It is also easy to use and has header ad placement option as well.
Furthermore, you can place a square (300x250px) ad in the right sidebar to get higher CTR for max. earning. It has a nice background pattern to focus aricles area for more usability.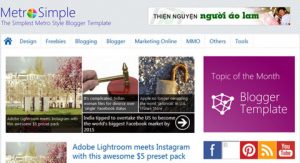 5. Mash 2 Blogger Template
Liked by many Blogspot users including me. This was my 1st free blogger template. Hope you will like this. Mash2 offer great usability and flexibility to design your blog as per your requirement.
It supports two navigation bars to add more categories and labels for easy content access. Build with nice color selection to deliver nice feel and optimized for more speed as well as ads friendliness.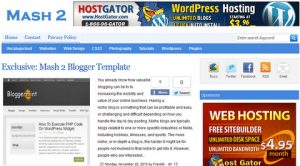 All are free blogger templates and tested very well. Also, they will work with almost every browser like: Chrome, Firefox, Internet Explorer, and Safari.